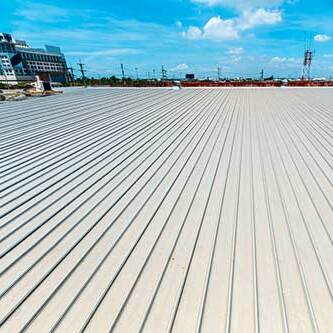 Top Quality Commercial Roofing From Edge 2 Edge Roofing
As a residential and commercial roofing contractor, we offer a full array of services for all types of commercial structures. From multi-unit housing, apartments, offices, churches, schools, and warehouses, we have a solution for every building – and property owners in need of commercial roof systems in Orlando, FL and nearby communities trust us to build and take care of their roofs for them. We do, after all, hold a GAF Master Elite certification, which puts us among the rare 3% of roofers nationwide privileged to hold themselves up to the most stringent of standards from the most reliable name in the roofing industry. Whenever you need commercial roofing in Orlando, FL, just give us a call at 877-488-3343.
Our Commercial Roofing Services
We hold ourselves to the highest standards when it comes to providing commercial roofing. That also means we have the skills and experience necessary to offer a wide variety of commercial roofing solutions. Whether you are searching for high-quality roofing able to stand up to the elements or an affordable roofing option that's still able to give your building the protection it needs, you can rely on us. Our services include:
Built-up roofing
Single-ply roofing membranes
Metal roofing
Keeping Your Roof in Top Shape
The secret to the longevity of a roof is making sure that it remains well-maintained. Get in touch with Edge 2 Edge Roofing – we take care of commercial roof maintenance in Orlando, FL and many other nearby areas. By working with us, you can extend the service life of your commercial roof at a fraction of the cost of full replacement. We offer an extensive choice of roof maintenance programs to suit your needs, regardless of what it is you are searching for.

Having a roof system that brings excellent performance over its entire expected lifespan provides peace of mind from knowing that both the people and the property inside your building are well-protected. You can count on our expertise in roof maintenance – we deliver professional inspection and assessment services so you are apprised of your roof's current condition. Whenever an issue arises with your roof, we can provide you with all the details on the best solution possible. We can also work with you to develop a scheduled maintenance plan that meets your annual budget needs while also addressing the critical issues of roof integrity and ongoing performance.
Solutions for Commercial Buildings of All Kinds
Your needs when it comes to roofing are likely to vary depending on the type of building you own. The commercial roofing solution that is best for the average apartment building or multi-family unit won't always be the best commercial roofing solution for a shopping center or a hospital. Not only that, but the maintenance needs and the kind of work required for commercial roof installation can be quite different depending on the type of building you need help with.
We provide commercial roofing solutions for buildings of all types. Some of the types of commercial roofs we work on include:
Apartment Complexes & Multi-Family
Agricultural Buildings Roofing
Hospitals & Healthcare Roofing
Church Roofing Replacement
Shopping Centers & Office Building Roofing Contractor
Regardless of the type of building you own and the type of roofing you are seeking, we can be there to help.
Contact Us Today
Our team is prepared to help you with your commercial roof, regardless of what it is you are looking for. Whether you're in need of repairs for your commercial roofing in Orlando, FL, or want a thorough commercial roofing systems estimate in the nearby areas, you can count on Edge 2 Edge Roofing's top-quality services. Call us today at 877-488-3343 for our office. Our business hours are weekdays from 8:00 am till 5:00 pm. You may also make a request for a free estimate through our contact page so you have all the information you need to get started on your next roofing project.