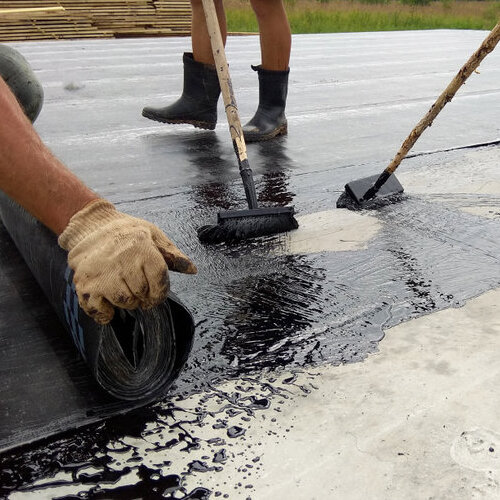 Get the Durability of a Modified Bitumen Rood
Edge 2 Edge Roofing provides the best in commercial roofing. We provide strong and durable roofing materials that will protect you from inclement weather and daily climate changes. If you'd like to get modified bitumen roofing in Orlando, FL, speak to our knowledgeable experts today. Contact us at 877-488-3343 to get started.
Modified Bitumen Installation
Modified bitumen is made by adding polymers to the asphalt and combining that with a fiberglass or polyester reinforcement. The result is an impermeable roof membrane. Modified bitumen roofing provides superior weatherproofing protection and durability compared to conventional asphalt built-up roofing (BUR).
Modified bitumen is approved for "flat" roofs with minimal slope, but roll roofing is not viable below a 2/12 pitch (two inches of rise for every twelve inches of horizontal run) with exposed nails, or a maybe little lower with concealed nail installation.
If you're interested in modified bitumen roofing in Orlando, FL, give us a call today.
Modified Bitumen Repair & Modified Bitumen Replacement
A modified bitumen roof should last approximately 20 years before it needs to be replaced. This is an estimate that does not include good roofing maintenance. With good maintenance, it can last much longer. Luckily, when modified bitumen coating is damaged, repairs are possible! There are a few different ways it can be handled, although applying a patch is the most common method.
Our team of roofers is able to provide fixes to your modified bitumen roof no matter the level of damage. We have the tools and equipment to fix any problem. Get a roof inspection today to see if problems signify a repair or replacement. We're ready to help.
Contact Us For Services
Edge 2 Edge Roofing is a roofing company with over 30 years of experience in the roofing field. If you have any questions or concerns about modified bitumen roofing in Orlando, FL, don't hesitate to give us a call. Get a FREE quote by filling out our online contact form or get in touch with us at 877-488-3343. Our team of expert roofers has got you covered with your commercial roof.