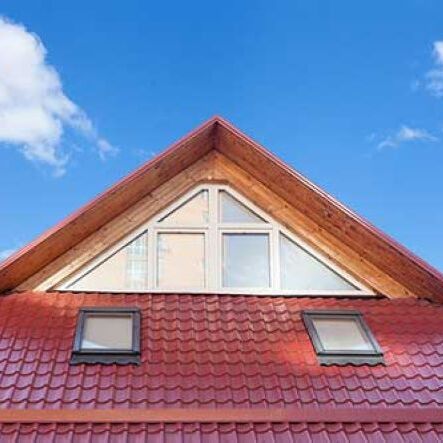 Edge 2 Edge Roofing: Quality Metal Roofing You Can Count On
At Edge 2 Edge Roofing, we know just how much metal roofing has to offer so we don't think twice about recommending it to homeowners looking for a cost-effective roofing system. This roofing option has grown in popularity over the years and we're not at all surprised, especially when it comes with the following benefits:
Weather Resistance – Thanks to tough panels and minimal seams, metal roofing is resistant to rain, snow, hail, ice, and the sun, and is even rated to withstand wind speeds of up to 140 mph.
Durability – Properly maintained, metal roofing can generally last 50 years or more, resisting rust, rot, and insects. It is also nearly impervious to penetrations.
Energy Efficiency – Classified as a type of "cool roof," metal roofing reflects a lot of the sun's heat, helping stabilize the temperature between the roof deck and its supporting structures. This limits heat transferred to a home, easing cooling requirements to reduce your monthly energy bill.
Maintenance Ease – Metal roofing requires little in the way of maintenance to stay good-looking and durable. Unlike shingles, it won't fade, chip, curl, or crack.
Aesthetic Appeal – Available in a range of textures, profiles, and colors, metal roofing can complement any kind of home style, boosting curb appeal for your property.
Installation Ease – Metal roofing is lightweight, making it easy to handle and making it possible for the roofing material to be installed over an existing roof. This takes away the need for tear-off and disposal, which is not only convenient but also lowers labor costs.
If you are interested in metal roofing in Orlando, FL, give our team a call at 877-488-3343.
Will a metal roof rust?
Metal roofing can and will rust, but this can be prevented with the installation of high-quality metal roofing and with the right maintenance. Roof coatings are typically recommended as a simple yet effective solution that prevents rusting.
Will a metal roof attract lightning?
A metal roof is no more likely to attract lightning than any other roofing material. Additionally, if lightning does strike a metal roof, your home may be safer. This is because metal roofing is a non-combustible material.
Will a metal roof make your house hotter?
Metal roofing will get hot with exposure to direct sunlight. However, metal roofing will also reflect the sun and heat away from a home. Because of this, it can actually help keep your home cooler and more energy-efficient.
The Edge 2 Edge Roofing Guarantee
All metal roofs installed by Edge 2 Edge Roofing come with extended manufacturer warranties. This means you don't only have an assurance that your metal roofing was installed right, but that the materials used themselves are of top-notch quality. Among the types of metal roofs that we install or repair is standing seam metal roofing, in particular snap-lock roofing. The fasteners on these roofs are hidden and protected from the elements, rusting, and other damage like leaks.
Talk to Us Today! We're Listening
To learn more about metal roofing in Orlando, FL and what Edge 2 Edge Roofing can do for you and in the other areas we serve nearby, just give us a call at our Georgia office at 877-488-3343 today!