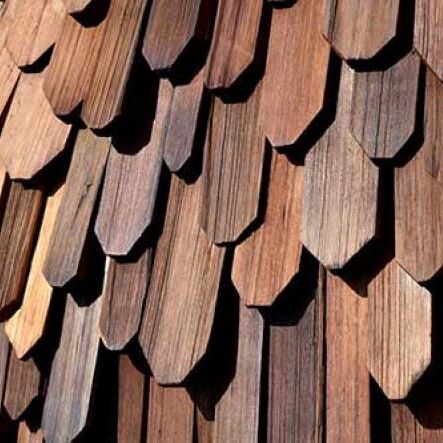 Edge 2 Edge Roofing
Our NO. 1 Choice For Quality Wood Roofing in Orlando, FL & Johns Creek, GA
It may appear like an old-fashioned choice but wood roofing from Edge 2 Edge Roofing continues to be favored by many homeowners because of the numerous benefits it offers, which include:
Beauty – If you're after old-world charm for your home, there's nothing quite like wood to achieve your goal. Timeless in appeal, wooden roofing works well in various homes, complementing a range of home styles to offer a high level of curb appeal, even without painting or staining.
Long Service Life – Naturally durable, wood roofing can withstand the harshest of the elements, resisting strong winds and impact, as well as insects.
Energy Efficiency – Did you know that wood shakes and shingles have up to two times higher the insulative ability that asphalt shingles have? This makes wood roofing more energy-efficient, which means it offers more energy savings down the line.
Eco-friendliness – Wooden roofing can be made from reclaimed wood or sourced from well-managed forests, reducing strain on natural resources. At the end of its life, it can also be recycled, aiding in keeping trash in landfills at bay.
If you are interested in wood roofing in Orlando, FL, and the surrounding area, get in touch with our team at 877-488-3343.
Wood Shakes VS Shingles
To differentiate the two, keep this in mind: shakes are more irregular in appearance while shingles are more uniform in thickness and size. Both are available in varying widths though, which contributes to wood roofing's rustic appeal.
Wood Roofing Like No Other
At Edge 2 Edge Roofing, we believe wood roofs make for incredible roofing systems. To make sure you make the most of your investment, we only offer the best in wood roofing, pairing top-notch products with expert craftsmanship to give you a roof like no other. Different homes have different needs but we have what it takes to give you what you want and need, honed by decades of experience in the industry.
Get help with wood roofing in Orlando, FL today.
Talk to Us. Contact Us Today!
To learn more about our products and services with wood roofing in Orlando, FL, and surrounding areas, and what Edge 2 Edge Roofing can do for you, just give us a call at 877-488-3343. We also have an online contact form you can fill out and we'll get back to you right away. We're always ready to help you and look forward to hearing from you.