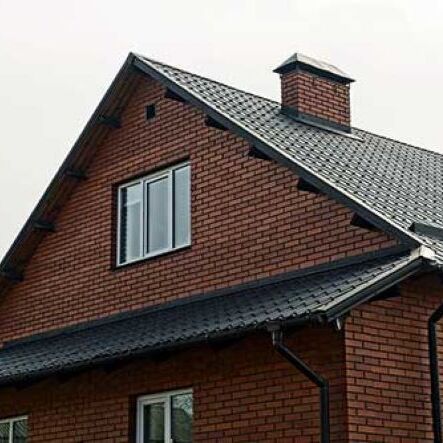 Natural and Elegant Slate Roofing Systems
Available in Orlando, FL
There are several factors to consider when choosing a residential roof material, but if you want an eco-friendly system that will last a lifetime and give your home a luxurious appeal, then slate is definitely the way to go. Slate roofing boasts a long and storied history, standing out through the years as one of the highest quality and longest lasting roofing materials ever.

Here at Edge 2 Edge Roofing, we've been successfully installing, maintaining and repairing slate roofs for years. Our professional roofers are true craftsmen with the technical knowledge and experience to provide you with a unique roof that will adorn your home for years to come. If you're interested in slate roofing in Orlando, FL call us today at 877-488-3343 to learn more.
Slate Roofing Features and Benefits
Slate is a naturally-occurring metamorphic rock that can be cut and shaped into shingles. It is quarried from different locations around the world, so its natural colors are often dependent on the mineral and chemical compositions in the area. The roof itself has three basic components – the slate shingles, the deck, and the fasteners, all of which are installed expertly by the Edge 2 Edge Roofing team.

The main benefits of slate roofs include:

Exceptional Longevity and Performance

Slate is a natural stone, so it boasts higher durability over other man-made materials. In fact, slate roofs are often considered lifetime roofing systems because they can last 100 years or even more. It is waterproof, noncombustible, and can easily resist temperature fluctuations and inclement conditions. This makes it a highly recommended option for homes in Georgia where harsh weather is a frequent occurrence.

Natural Appeal and Matchless Beauty

A slate roof will redefine the curb appeal of your home with its natural elegance and unique appearance. Additionally, it can come in various sizes, thicknesses, colors, and styles, so you can be sure of finding one that matches your home's architecture seamlessly.

High Sustainability

Slate roofs do not contribute any harmful substances to the environment and don't end up in landfills, thanks to their long service life. In fact, according to the National Slate Association, all slate is green, since it is 100% natural. If you are a homeowner looking to contribute towards making a green environment, then this is a great option for you.

Choosing slate roofing is a major investment. Experts even suggest that because of its longevity and aesthetic qualities, it is the most cost-effective option over the long term.
Get started with slate roofing in Orlando, FL by talking with our team of experts soon!
Talk to Us Today!
Let Edge 2 Edge Roofing work with you today to install perfect slate roofing in Orlando, FL for your home. If you are in Orlando, FL and the surrounding areas, call us at 877-488-3343. You can also reach us by filling out our contact form.