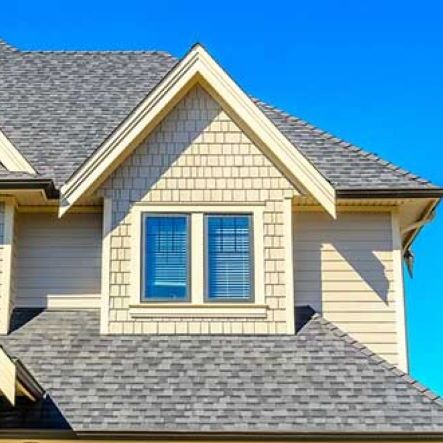 Why Choose Asphalt Shingles?
Perfect for in Orlando, FL & Johns Creek, GA
Over the years, asphalt shingles have made a name for themselves as America's favorite roofing material. Newer roofing options are available in the market today but it remains a top choice for many homeowners in the nation, thanks to the number of benefits it brings. These benefits include:
Aesthetic Appeal – Asphalt shingles come in a range of colors and textures, allowing you to pick out one that will match your home perfectly. The roofing material can also mimic the appearance of wood or slate, giving you the chance to enjoy an elegant roofing system at a lower cost.
Installation Ease – Because of their size and flexibility, asphalt shingles are easy to adapt to any kind of roof. Additionally, they are lightweight, not requiring additional support during installation. They can even be installed over an existing shingle layer, provided there are no issues with the underlayment.
Maintenance Ease – Where other roofing materials may require a specific set of tasks to maintain their appearance and performance, asphalt shingles will need no more than routine cleaning. And when shingles are damaged, they are easy to repair or replace.
Affordability – It's always nice to save on costs but what's even better when it comes to asphalt shingles is that you get a lot for what you're paying, making the roofing material a cost-effective choice.
If you are interested in asphalt shingle roofing in Orlando, FL, give the Edge 2 Edge Roofing team a call at 877-488-3343.
Your NO. 1 Choice For Quality Asphalt Shingles in Orlando, FL
At Edge 2 Edge Roofing, we offer a wide variety of asphalt shingle options. The better the grade, the longer the life expectancy, which can last anywhere between 15 and 30 years or more. To make sure your shingles last as long as possible and give you the best protection, we always use materials from leading manufacturers like GAF. Moreover, by ensuring each installation is carried out with expert craftsmanship, we are able to guarantee you'll make the most of your investment in asphalt shingle roofing.
Talk to Us!
To learn more about asphalt shingle roofing in Orlando, FL, and the surrounding areas, and what we can do for your home, just give Edge 2 Edge Roofing a call today at 877-488-3343. To get a FREE quote, you can also fill out our online contact form to get in touch with us.