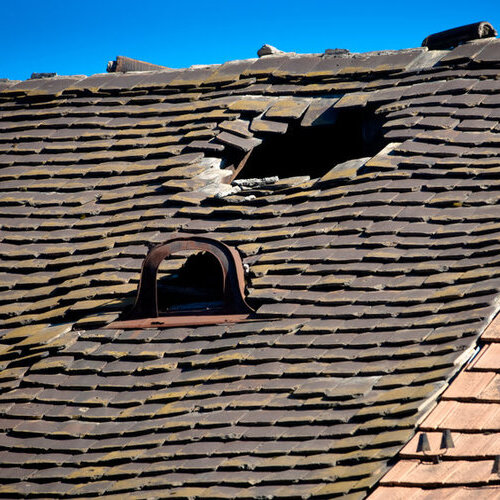 Get Help With Your Roofing 911
For most homeowners, dealing with a storm-damaged roof is a nightmare scenario. But the weather in the area can get pretty rough, so storm damage to a roof isn't uncommon, as unpleasant as it may be. That's not to mention the various other factors that can lead to roofing damage. If you've found yourself in need of emergency roof repair in Orlando, FL, or any other nearby cities, the experienced roofing pros at Edge 2 Edge Roofing can be there for you. Get the help you need with your roofing 911 by calling us right away at 877-488-3343.
Identifying a Roofing Emergency
Sometimes you may be uncertain whether the roofing issue you're dealing with is a real roofing emergency. What qualifies as an emergency roof repair? There are many factors to watch out for so you know for certain when to call a skilled roofing professional to give you a hand with the problem you're experiencing.
Among the many things to pay attention to when trying to decide if you're dealing with a roofing emergency is the current weather conditions. While you may be able to postpone roof repair for a minor leak, it's important to remember that this can turn into a much bigger issue during severe weather, especially if there is a lot of rain or wind involved. This is because a lot of excess water can quickly lead to damage inside your home along with the growth of mold and other organic materials.
Another thing to take note of is sections of major damage along your roof. For example, if your roof has been struck by a tree branch, this may cause a significant amount of damage. This damage can quickly become a much bigger problem regardless of the current weather conditions.
What to Do When Dealing With a Roofing Emergency
Dealing with a roofing emergency is always stressful, and many homeowners may not know for certain what they should do when disaster strikes. The first and in many cases most important step is simply to remain calm, as difficult as this may be. After this, reach out to a company like Edge 2 Edge Roofing that can be there to offer emergency roof repair. We're always available to handle any emergency roof repair you may need, so you should never hesitate to give us a call when dealing with a roofing 911.
While waiting for help to arrive, there are a few more steps you can take to try and prevent any further damage. If possible, it's always a good idea to cover the affected area of your roof with a tarp or something similar. This will go a long way toward ensuring no further damage arises. If you can't access the roof itself, you can also place a tarp or similar covering over the ceiling where the damage has occurred. Another step you can take to prevent possible damage is to simply use a bucket to collect any water coming into your home if necessary.
Reach Out for Emergency Roof Repair
If you've found yourself dealing with a roofing emergency, we can be there to help. The skilled roofing professionals at Edge 2 Edge Roofing can be there night and day to get your roof back in shape and prevent any damage that could occur as a result of your roofing damage. If you suspect damage after a storm, you can also get in touch for a roofing inspection.
In addition to being able to help with your emergency roof repair, our team can be there to offer a helping hand in making your roofing insurance claim. For emergency roof repair in Orlando, FL and surrounding areas, call us today at 877-488-3343.