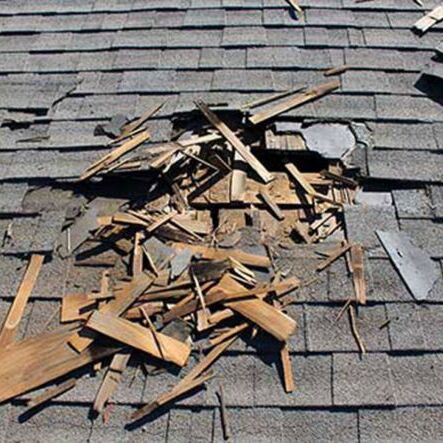 Minor Roof Damage Can Lead to Major Problems
Is your roof showing signs of damage or wear? Small problems can lead to expensive repairs and replacements when left unaddressed. That's why it's best to call the pros from Edge 2 Edge Roofing for roof repair in Orlando, FL, and Johns Creek, GA.

You'll receive prompt service from dedicated professionals. We even offer short-term emergency repairs such as placing a tarp over your roof. Our team will protect your space when disaster strikes, then follow up later with more permanent repairs. Get in touch with a roof repair specialist now by calling 877-488-3343.
Take Good Care of Your Roof
What type of roof repair do you need? Our certified, accredited team can handle any commercial or home repair job. Does your warehouse roof have a leak? You can count on us for an efficient roof leak repair. Maybe you need to replace missing shingles on your roof at home-we can handle that job, too.
We offer a comprehensive range of roof repairs for all types of roofing systems, ranging from asphalt shingles to tile for residential roofs to TPO and built-up roofing for commercial roofs. You can also count on our team to use quality materials from leading manufacturers like GAF. Using such materials ensures longevity and improved protection. We also offer extended warranty coverage that many other roofing companies cannot provide.
When you get in touch with us to repair your damaged roof, we'll start with a free roof inspection to determine exactly what needs to be done to fully repair your roof. Depending on the extent of the damage and age of your roof, the inspection will also determine if the roof just needs repairs or if it needs to be fully replaced. After we inspect your roof, we'll provide a reliable estimate and we can assist you with roof insurance claims should you submit the repair to your insurance provider.
What roof repairs does insurance cover?
What homeowner's insurance will cover largely depends on your individual insurance policy. However, you can generally expect insurance to cover damage caused by storms, though it will not cover roof repair needed because of neglect.
Do I need a permit for roof repair?
In the state of Georgia, a permit is required for any major roofing work such as a roof replacement or roof repairs requiring structural work. However, minor roof repairs such as shingle replacement will not generally need a permit.
Can you repair a roof when it's raining?
Discovering roof damage is always stressful, and it is always wise to repair damage as quickly as possible. While a roof can't be repaired in the rain, a qualified roofing company can help by covering the area and preventing further water damage.
Meet With a Roof Repair Pro Orlando, FL – Call Us Today
Don't wait for damage to get worse. The worse the damage becomes, it's more likely a replacement will be required. When you need roof repair in Orlando, FL, schedule roof leak repair or shingle replacement with Edge 2 Edge Roofing today by calling 877-488-3343. We are always ready to help you get your roof back into great condition. We are fully certified and insured.