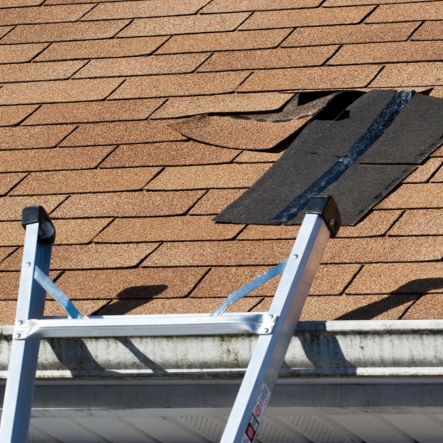 Kick Your Faulty Roof to the Curb
A damaged roof isn't just inconvenient-it's also a safety hazard. Between leaks and damaged shingles, you could be leaving your home or business susceptible to pests and water damage. If you need reroofing work or roof replacement in Orlando, FL and Johns Creek, GA, area, you can count on Edge 2 Edge Roofing. We uphold GAF and CertainTeed warranties so, you can feel confident in our services. Discover how easily you can take advantage of roof replacement or reroofing service by calling 877-488-3343 now to speak to a roofing expert and schedule an appointment for a roof inspection.
Different Materials are Preferred for Different Spaces
When it comes to replacing your roof, you may have different material preferences. Our customers in Orlando, FL often opt for asphalt shingle or metal roofs. The choice is yours. Our team works with:
Wood shake or shingle
Tile
Slate
For most homes, asphalt shingles are the most common roofing material used. Typically, an asphalt shingle roof will last about 20 years before it needs to be replaced. Once you determine that you need a roof replacement, our team will visit and provide a free roof inspection and give you an estimate. We can also help you with your roof insurance claim if you are submitting a claim to your insurance provider. In some cases, an inspection can determine that the damage or wear isn't extensive enough to warrant a replacement, and instead, may just require a roof repair.
Whatever material you choose, you can rest assured the materials we use will be of the highest quality. We use only top-quality materials from leading manufacturers like GAF. Moreover, you can count on us for expert installation that will ensure your roofing system will be long-lasting and offer the greatest protection available. Additionally, we offer some of the best extended warranties that other roofing companies often cannot. Get help with roof replacement in Orlando, FL by giving us a call today.
Will insurance cover roof replacement?
Insurance will often cover the cost of roof replacement when a roof has been damaged due to events such as storms or fire. However, they will not typically cover the cost of replacement that's needed due to neglect or the natural aging process.
When do I need a roof replacement?
In many cases, you will be able to get roof repair to take care of issues and will not need a full roof replacement. However, roof replacement is necessary when a roof has seen extensive wear and tear. A qualified roofer can help you determine if a roof replacement is needed.
How often does a roof need to be replaced?
The time needed between roof replacements will vary depending on the type of roofing material you have. For example, an asphalt shingle roof may have a lifespan of 15 to 30 years while a metal roof may last upwards of 50 years.
Give Us a Call Today for Roof Replacement in Orlando, FL
Not sure what material to replace your roof with? When you need a roof replacement in Orlando, FL, and the surrounding areas, speak with a roofing pro from Edge 2 Edge Roofing today. To schedule an appointment for an inspection and estimate, all you need to do is call 877-488-3343. We always look forward to hearing from you and we're ready to help.