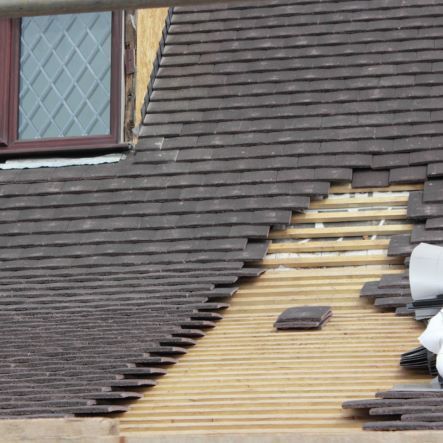 Been Through Hail and Back?
If your home has been hit by a storm, you may not know where to turn. Edge 2 Edge Roofing is an experienced company offering roof storm damage repair in Orlando, FL. Whether your home or your business has been damaged by wind, rain, or hail, our team can help. You can work with us to get guidance through the roof insurance claims process as well as repairs and replacements.

Don't panic in the face of storm damage – consult with the team from Edge 2 Edge Roofing today. Find out how to get roof storm damage help by calling 877-488-3343.
Work With a Dedicated Team for Emergency Repairs and More
When disaster strikes, it's best to handle issues step by step. Our team will help you do that. We'll:
Perform an emergency roof repair to minimize damage
Visit your home to assess the state of your roof
Recommend a repair or replacement service
Provide necessary documentation for roof insurance claims
Work with your insurance adjuster to make sure you get proper coverage
Perform your repair or replacement service
You can call us at any time after a storm hits for fast emergency roof repair. Usually, this means placing a tarp over the damaged area of the roof to prevent further damage from occurring. Once the storm subsides and conditions are stable enough to make repairs, we'll come out, provide a roof inspection, and make the repairs or replace the roof as needed.
Roof Insurance Claims Help in Orlando, FL
When your roof is damaged by a storm or other disaster, this damage is often covered by insurance. But navigating the claims process can often be a hassle. We're here to help. We've worked with numerous insurance providers to help our clients get the roof storm damage repairs they need. In particular, we'll provide a comprehensive roof inspection report that you can submit with your claim. We can also meet with your adjuster, if needed, to confirm damage and repair or replacement estimates. Whether you're a homeowner or a business, we want you to get the coverage you need.
Call Us Today
Do you have questions about our roof storm damage remediation process? Perhaps you've found yourself in need of roof storm damage repair in Orlando, FL? Get the help you need by calling 877-488-3343. We know how stressful getting roof storm damage repair can be and we are ready to help you today. We always look forward to hearing from you.