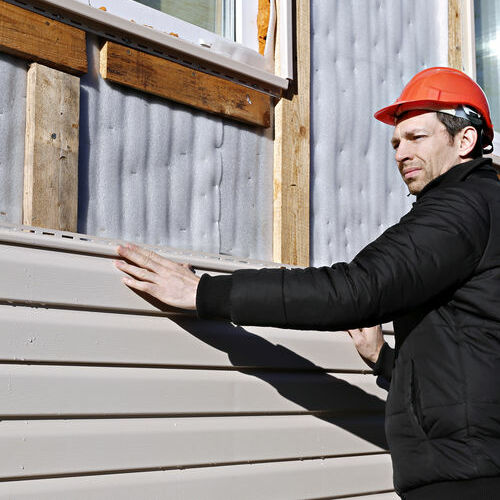 Siding That Perfectly Complements Your Home
Contact Us Today For Siding Installation in Alpharetta & Johns Creek, GA
The right siding team makes your home energy-efficient and more attractive while helping to lower maintenance time and costs. At Edge2Edge Roofing, we offer an array of exterior siding options that perfectly boosts curb appeal and create a solid insulating barrier between conditioned indoor air and outdoor weather. This means less energy is required to heat or cool your home.
We install James Hardie® fiber cement siding, which boasts exceptional durability and offers one of the industry's highest rates of return on investment. Not only does it enhance the beauty and value of your home, but also resists mold, mildew, and insects easily. For siding installation in Alpharetta, GA, give our team a call at 877-488-3343.
The True Cost of Painting Your Home
Are you tired of scraping and repainting your home every few years? Home improvement experts recommend a home's exterior be painted at least every eight to ten years, in order to maintain aesthetic appeal and value. Over the years, these painting costs add up and take their toll on your finances.

That makes low-maintenance siding the far better alternative since you no longer have to worry about scraping, repainting, or patching cracked panels. James Hardie siding can mimic the look of more natural or expensive materials, giving your home a beautiful, elegant appearance that will last for years to come.
The Edge2Edge Roofing Roofing Difference
When you turn to Edge2Edge Roofing, you'll enjoy the benefit of a time-tested installation process. From the moment we arrive at your property for a FREE in-home consultation, to the moment we finalize our cleanup, you can expect only the best professional and courteous customer service.

Our expert crews work quickly and efficiently, making sure to complete your project on schedule. Whether we are replacing existing siding or installing it brand new, our commitment to your utmost satisfaction never wavers.
Talk to Us Today!
From a reduction in heating and cooling costs to raising the standard for overall curb appeal and property value, investing in siding is the wise choice for your home. Let us help you achieve the look you want at a price you can afford today. Homeowners across Georgia have come to rely on Edge2Edge Roofing for the highest quality exterior siding installation in Alpharetta, GA, and nearby areas. Call us at 877-488-3343. You can also reach us by filling out our contact form.